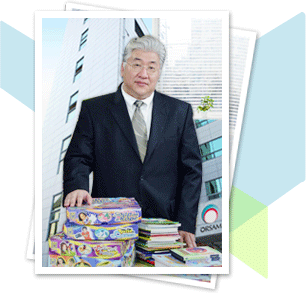 Orda Korea was founded on the basis of 'love and creativity' in 1992. Ever since then, it has grown only to stand out and become the most notable enterprise for child education. Our company is wholly devoted to the upbringing of talented and competent young minds required for the 21st century.
Founded from the Jewish educational philosophy and know-how, Israel's Orda has been a big issue for gossip among mothers for the past 20 years. More than forty thousand children are partaking in this exceptional program. Also, taking advantage of the emphasis on private education within the Korean domestic educational system, we have made a program to exclusively use in educational facilities such as preschools or kindergartens that over three thousand different institutions use today.
Orda Korea is importing educational know-how such as books and teaching aids so from educationally well-developed countries such as Israel, Germany, and France to research and develop how to Koreanize them. With this, we will re-export to China, Japan, and the U.S.A. to live up to the reputation of an International Enterprise for Educational Services. We will do our best to lead our educational industry to the world and to the future. Through research and export-oriented business development, we will find the finest and most optimum solution to educational service, bringing more than just customer satisfaction, but a sensation among our customers.

"Work together, pray together, love together" is our company motto and the basis to find the finest and most optimum solutionto educational service, bringing more than just customer satisfaction, but a sensation among our customers.

People don't only exist to meditate, feel, or dream.
All people gleam and do best when they do what they want to do. It's because humans are born to work.

Even if you don't have a religion, praying is a great way to comfort yourself You can only earn true wisdom through silence, meditation, and self-reflection.

Spring Oreusaem of wisdom expresses will to lead genuine educational reform through ultimate target of Korea and make the better world while rise that is love and initiative.